Welcome to our health education library. The information shared below is provided to you as an educational and informational source only and is not intended to replace a medical examination or consultation, or medical advice given to you by a physician or medical professional.
Exercises Before Hip Replacement: To Help with Walker or Crutch Use
These exercises help build upper body strength. This helps when you need to use a walker or crutches after surgery. Be sure to exercise both arms. Your physical therapist (PT) or surgeon may also tell you to use weights when doing these exercises.
Bicep Curls
Sit up straight in a chair. Keep your elbow close to your body and your wrist straight.

Bend your arm, moving your hand up to your shoulder. Then slowly lower your arm.
Triceps Curls
Sit, leaning forward from the waist.

Bend your elbow so that your forearm is parallel to the floor. Then straighten your elbow as you extend your arm behind you.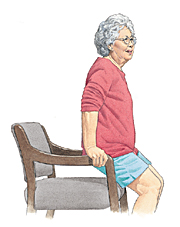 Seated Press-Ups
Sit in a sturdy chair with armrests.

With palms flat on the armrests, press down to lift your buttocks from the chair. Hold for a few seconds.

Bend your elbows to slowly ease back down.