Welcome to our health education library. The information shared below is provided to you as an educational and informational source only and is not intended to replace a medical examination or consultation, or medical advice given to you by a physician or medical professional.
Treating Ganglions
Ganglions are often difficult to treat without surgery-but nonsurgical methods may be helpful in relieving some of your symptoms.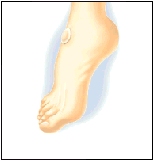 Accommodative pad
Nonsurgical Care
Pads placed around the ganglion can ease pressure and friction.

Fluid removal may also relieve symptoms, though ganglions may recur.

Limiting movements or activities that increase pain may bring relief.

Icing the ganglion for 15-20 minutes may temporarily relieve inflammation and pain.

If your inflammation is severe, your podiatrist may treat your symptoms with medication.
Surgery
If a ganglion is causing ongoing or severe pain, your doctor may recommend surgery. The entire ganglion wall is removed during the procedure; some surrounding tissue may also be removed. If the ganglion has come through a tear in the capsule of the joint, the tear will have to be repaired. The joint will likely be immobilized while the tear heals.
After Surgery
You may feel pain, swelling, numbness, or tingling for several weeks following surgery. You'll probably be able to walk soon afterward, though your foot may need to be wrapped or in a cast. Be sure to see your podiatrist if you notice any problems in the future. Although surgery is usually successful, there is a chance that the ganglion will recur.